SECURE HOLD • Twice the Hold of Spikes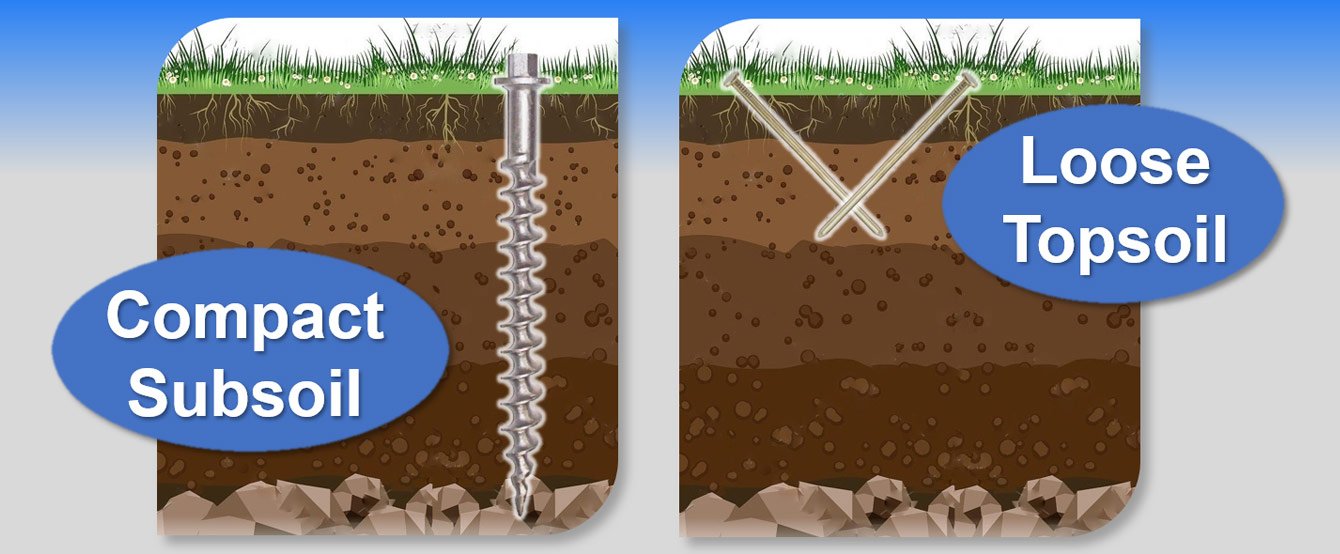 The 18" Long Screw by 1 ¾" Wide Screw Thread strongly grips the ground.
The Big-Screw EZ Tie-Down penetrates 18 inches deep where the soil is heavily compacted providing a superior grip. Each screw has 80 square inches of surface contact area equaling 240 square inches combined. Other products rely solely on smooth narrow spikes angled into the ground which can easily pull out, this results in the entire tie-down failing when just one spike becomes lose. Spikes must be angled into the ground, limiting ground contact to the top 5-7 inches of soil where it is the weakest.
Safe Wide Triangle Pattern
FAA & EAA Compliant
The entire design enables Ease-of-Use for even brief airport stops. The three screws can be quickly installed and removed with a 1" ratchet wrench, socket wrench or impact wrench.
No hammering or prying out 9 to 12 spikes each time you Tie-Down.

The straps are easily attached to your aircraft, tensioned and locked in place in just seconds. No knots, worn ropes or frayed webbing.
Why you should own the Big-Screw EZ Tie-Down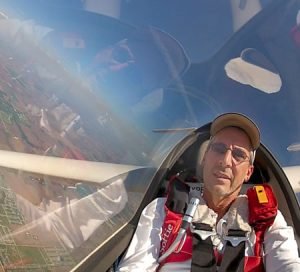 "As a small aircraft owner, I have owned or borrowed most of the available tie-down products such as "The Claw", "Storm Force" and "FlyTies". They each have minor design differences and provide some amount holding force if used correctly, but I never really liked or trusted the one thing they all share in common, the nail like spike providing the grip to the ground.
A nail works great in wood because of its solid nature and high surface compression, however the ground doesn't provide that same strong hold on a nails smooth surface. In fact, a spike or nail can pull straight out quite easily from the ground. For a grip that doesn't easily pull out, a helix, screw design would be a much better choice. By its inherent design, a screw provides a significantly larger ground contact area and compression greatly increasing its holding ability.
The obvious advantages of a large screw based tie-down seemed like the solution I was looking for but there just weren't any quality products available that I would entrust my plane to. This led to me to develop my own tie-down, the Big-Screw EZ Tie-Down."
Greg Palmer
 – Designer of the Big-Screw EZ Tie-Down
Easiest to Install,
Provides Superior Grip
<< JUST WATCH
Portable Aircraft Tie-Down System, the Fastest and Easiest to Install and Remove.
Complete Tie-Down System – $189.95
Lightweight- Entire System w/ bag weighs 10 lbs.
Three 18 inch Aluminum Screws w/ 1" Hex Drive
Three 10 foot Weatherproof Attachment Straps
Detachable Straps can be used on Airport Ramps
Locking Strap Tensioners
Dual S-Hook Attachment Hooks
Compact Carrying & Storage Bag